Social and Networking
As the BCMA hold events, meetings, and other activities, we encourage you to send us photos and a brief summary of the event. Just email the photos and info to cpeterson@bcma.com. We will post on our website and share with membership.
Membership Awards & Achievements has a special page. We congratulate the success of our members. 
We encourage you to post your non-BCMA activities, e.g., your personal office staff, volunteer projects, community involvement, or personal vacations on our Member's Only Facebook page. Just click the Facebook icon on the left side of this page. 
2018 Upcoming events
BCMA 92nd Presidential Inauguration Dinner Nov 17, 2018
The 92nd Presidential Inauguration Dinner will be held at Pier 66 Crystal Ballroom 6:30-10:00 PM. Please plan to attend. More details to follow!
BCMA Women Physicians Networking Event, August 10, 2016
Margaritaville Beach Resort
BCMA Women Physicians Networking Event, March 2016
BCMA Women Physicians Red Dress Event 8.26.15
May 13, 2015 Women Physician Green Dress Event
Women Physician Networking Event March 11th 2015: What Fun!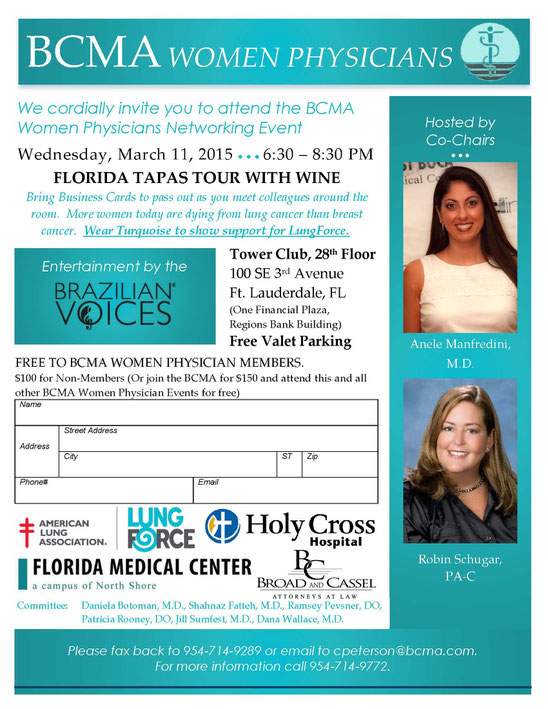 BCMA 2014 -- 88th Annual Inauguarial Dinner-- A huge success!

2014 BCMA Women Physicians Networking Events
Women Physicians' Purple Dress Event- September 2014
"Go Red for Women"  June 2014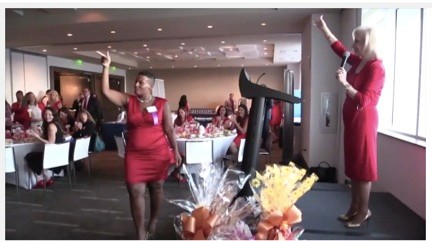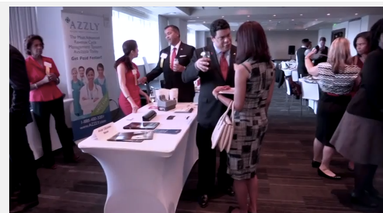 87th BCMA Annual Inauguration Dinner installs Dr. Richard Steinman as President
More than 100 attended the Women Physicians Blue Dress Event 10/09/2013!
Our final 2013 Women Physician's Event was very successful with more than 100 attendees and multiple event sponsors. Door prizes included a 5 day Jag Drive, massage in home, personal trainer session, coffee maker, gourmet chocolates, wine and gourmet basket, and many, many more treats. Everyone had a fantastic time. Individual professional photos (after professional make-up artist did the proper touch up) were again snapped. The most flattering individual photo of each member,  selected from the red, white, and blue dress events,  will be chosen to be featured in the Women Physicians Membership/Networking directory planned for 2014.  Please make plans to join us for all the exciting events we are planning for 2014. All events are free for members in good standing. 
Meet some of our sponsors for the Blue Dress Event!
Women Physicians White Dress Event 6/12/2013
BCMA gains 15 new female physician members following the White Dress and Stiletto Heels Event!
The BCMA Women Physician Summer Networking Event AKA White Dress & Stiletto Heels Event was a huge success. This event was held at the Riverside Hotel with 69 women physicians and sponsors attending.  Drs Lanalee Araba Sam and Lyssette Cordona, Women Physicians Interest Groups's co-chairs planned this event with the assistance of our fantastic Executive Vice-President, Cynthia Peterson. Everyone shared their tips on how to successfully juggle career, family, and personal time with some unexpected, unusual activities discussed. You missed a real treat if you did not attend. Enjoy our photo gallery of the event.
We have already announced our Fall event, a Blue Dress & Stiletto Heels affair. You can't miss it!
[PS. For free registration, identify yourself as a member or join over the phone]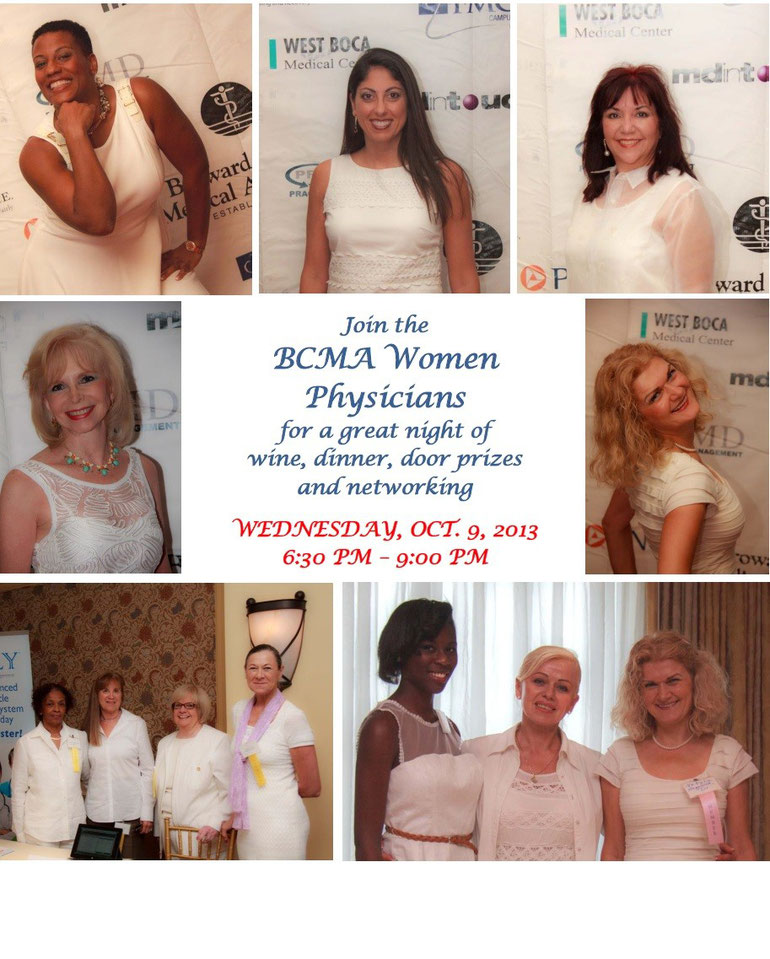 BCMA Physicians and Alliance Wine Tasting Event April 24th was a SUCCESS!
Over 60 BCMA physician and alliance members, guests, and sponsors attended our Wine Tasting Event held at 7th Street Winery. Our top sponsor was First Citizens Bank and Trust, represented by Echo Langley. Other sponsors included AZZLY, represented by Coletta Dorato, and Broad and Cassel, represented by Vanessa Reynolds. The gift baskets were provided by First Citizens Bank and Trust and TW Telecom. Everyone had a wonderful time tasting the wine and samplying the cheese and appetizers! You missed a great event if you were not there!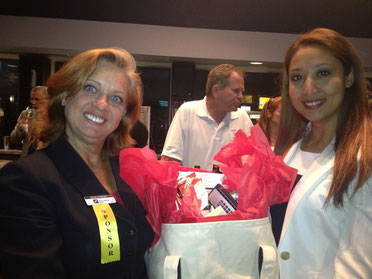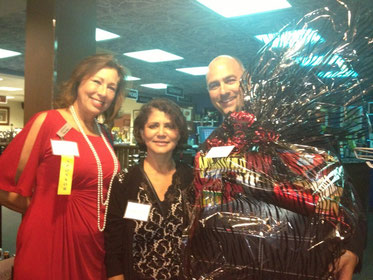 Left to Right
Echo Langley, First Citizens Band  & Trust
Dr. Jyoti Pradhananga, basket winner
Left to Right
Sherri Mills, TW Telecom
Dr. Humaira Khan, basket winner
Rick Sebaly, TW Telecom
Women Physicians Red Dress Event 2/27/2013
The BCMA Women Physicians 2013 Kick off Event, AKA Red Dress & Stiletto Heels Event, was held at the Riverside Hotel with 129 women present! The very successful event was planned by the Women Physicians interest Group's co-chairs, Dr. Lanalee Araba Sam and Dr. Lyssette Cordona. Everyone enjoyed the wine, hor d'ouevres, dinner, networking, door prizes, makeup and individual photos of each physician, DJ music, partnership exhibits, and guest speaker.  Giselle Cheminand, President/CEO of GCI Worldwide Coporation spoke on "Finding Joy in Medicine". Major sponsors for the event included North Shore Medical Center, ProAssurance, Cleveland Clinic Florida, and Lubell & Rosen (Attorneys at Law).
The Women Physician Interest Group Committee is already planning the next outrageous event for June 2013 which will feature a "Dress in White" theme. Don't Miss it!
86th Presidential Inauguration & Dinner November 3, 2012
The 86th Presidential Inauguration with the theme "Lady Luck" was held at Hyatt Regency Pier 66 in Fort Lauderdale with approximately 250 attending. The passing of the gavel from outgoing President Dr. Kutty Chandran to incoming President Dr. Dana Wallace took place in a short formal inauguration followed by a "5 minute" inauguration address by Dr. Wallace. She was sworn in by all the Women Physicians attending the dinner. The professional dancers Craig Simms and Diana Heilig performed an exciting Tango and Cha-Cha. This was followed by a fun night of dinner, blackjack, roulette, and more. Don't miss this year's annual Inauguration and DInner taking place on Saturday October 26, 2013.
A Special Evening for Women Physicians October 17, 2012
The Women Physicians Interest Group planned an exciting evening of good food, educational presentations, exhibit shopping (in time for the holidays), excellent networking, and just plain fun. Over 100 female physicians participated in this record-breaking event. Guest speakers included Vanessa Reynolds, Esq., Broad and Cassel; Giselle Cheminand, Exeutive Coach and CEO of GCI Worldwide Corp.; Maribel Cordova-Ramirez, Director Business Development, ProMD Practice Management, Ro Andrews, CLTC, Advanced Markets BB&T Financial Planning Development; and Dana Wallace, Chair of Women Physicians Section and BCMA President Elect.